IMPROVE YOUR WI-FI SIGNAL
£45.00 + DELIVERY + VAT
Why not have the Wire Wizards Engineers install your equipment ?
The Amped Wireless High Power 8dBi Omni-Directional Outdoor WiFi Antenna is designed to increase the signal strength and range of your 2.4GHz 802.11b/g/n WiFi device in all directions. The high gain antenna provides Wi-Fi devices, such as routers, access points, adapters, repeaters and bridges, with more powerful, 360 degree, point to multipoint, WiFi coverage. The A8EX replaces the antenna on your existing WiFi device and concentrates your WiFi device's signal in all directions to cover distances of up to 1 mile. The High Power Outdoor Antenna Kit includes everything you need to mount the antenna outdoors on a wall or on a pole. (Wireless results may vary. To achieve a 1 mile wireless connection it is necessary to have another high power outdoor antenna on the other end of your connection. The connection must have no obstructions and have line of sight. Wireless performance may vary due to environmental conditions and installation scenarios.)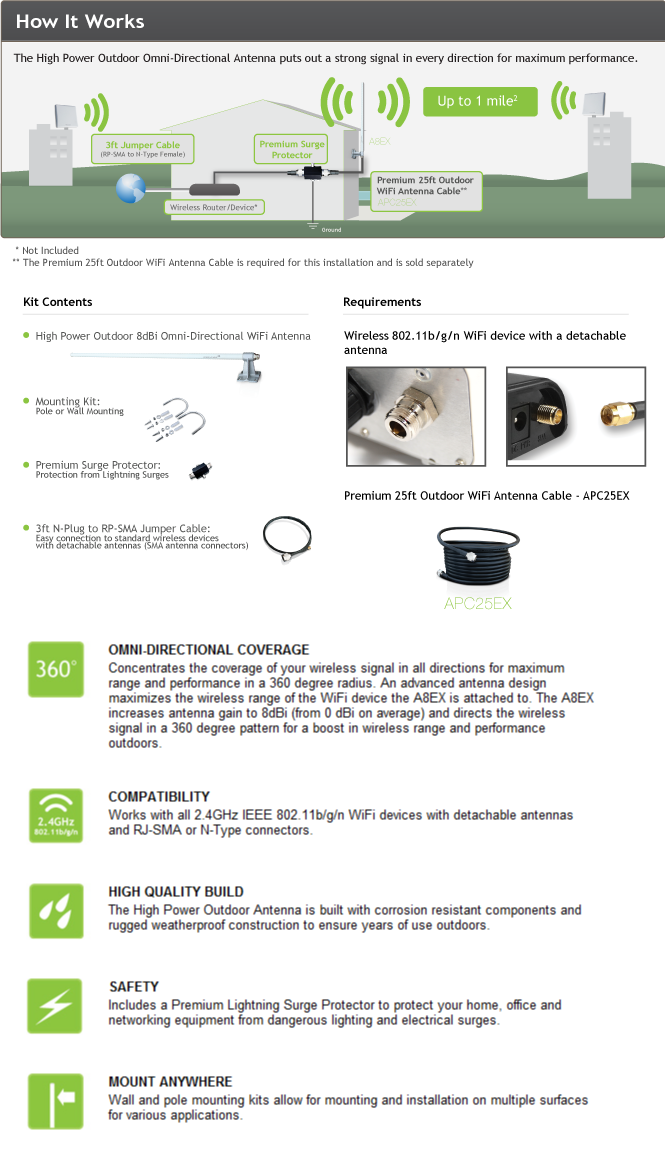 Omni-Directional CoverageConcentrates the coverage of your wireless signal in all directions for maximum range and performance in a 360 degree radius. An advanced antenna design maximizes the wireless range of the WiFi device the A8EX is attached to. The A8EX increases antenna gain to 8dBi (from 0 dBi on average) and directs the wireless signal in a 360 degree pattern for a boost in wireless range and performance outdoors.
CompatibilityWorks with all 2.4GHz IEEE 802.11b/g/n WiFi devices with detachable antennas and RJ-SMA or N-Type connectors.
High Quality BuildThe High Power Outdoor Antenna is built with corrosion resistant components and rugged weatherproof construction to ensure years of use outdoors.
SafetyIncludes a Premium Lightning Surge Protector to protect your home, office and networking equipment from dangerous lighting and electrical surges.
Mount AnywhereWall and pole mounting kits allow for mounting and installation on multiple surfaces for various applications.